AMF - Specialized in shape memory alloys
In a DeviceMed magzine article (November/December 2016), Philippe Marx tells us the traps of the standard ASTM F2129 on the pitting corrosion. (ASTM F2129 : Standard Test Method for Conducting Cyclic Potentiodynamic Polarization Measurements to Determine the Corrosion Susceptibility of Small Implant Devices)
He explains his decision of incorporting the analysis to control "a future drift in the implant quality".
"When we subcontract this test in a Laboratory, a simple trial report is not enough".
"It is only with such a level of trial report that we can hope to win the trust of an auditor of CE or FDA marking".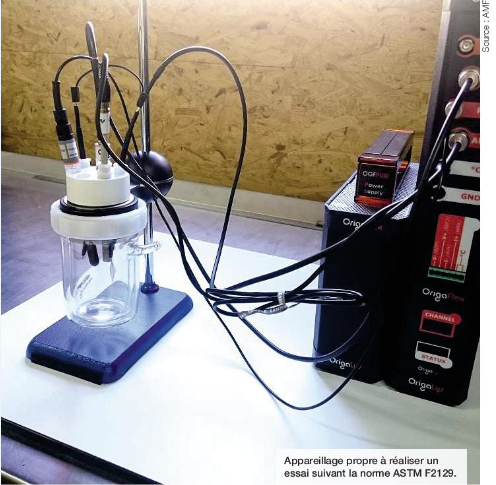 OGF01A Pack, used by AMF
This system allows you to deal with the following standards: ASTM F2129, ASTM F1875, ASTM F746, ASTM F3044, DNV-RP-B401
Please, consult us for other standards.